PLEASE VISIT OUR NEW SITES

Montreal Hotspots
Montreal's Finest
Place Montreal Trust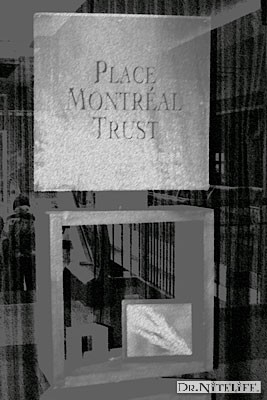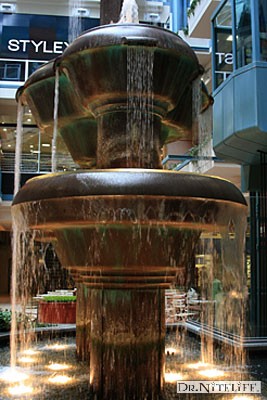 Place Montreal Trust is located in between Peel and McGill Metro stations, making it one of the most visited of its sister stores. A five-storey complex, it houses the largest array of large retail stores as well as an impressive physical space. Its spectacular water fountain has the highest water spout in Montreal, spraying a height of 30 metres into the air. That's the entire five levels! Every year during Christmas time, a giant tree sits alongside the fountain, climbing all the way up to the ceiling and illuminating the entire mall.
After months and months of being closed off, the garden level of Place Montreal Trust has finished its major reconstruction. $15 million has gone into making the sitting area one of the most care-free areas of the Underground City. Its extensive food court has a vast array of choices: fresh sushi, Italian style pizza, McDonald's, and a healthy juice bar. For those who don't know what they're hungry for, a couple turns around the court will be enough to decide on a tantalizing snack.
Attaching Place Montreal Trust to the Cours Mont-Royal is the Carrefour Industrielle Alliance, an urban renovation project started by GENIVAR, an award-winning Canadian engineering company. Over the past several years, the company has built up the small area into a powerhouse, home to Montreal's favorite cheap fashion retailer, Simon's, as well as the huge Paramount movie theatre, both accessible on Rue Ste-Catherine.
| | |
| --- | --- |
| | 1500 McGill College |