PLEASE VISIT OUR NEW SITES

Montreal Hotspots
Montreal's Finest
Revamped Montreal Trust Shines
With new stores and in-mall renovations, the Trust is a top shopping pick
By : Adair MacGregor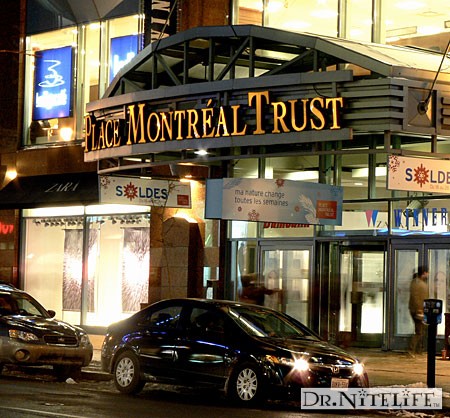 977 Ste-Catherine W.




Everyone who's from out of town loves Simon's. While Montrealers are more than aware of its great fashions at low prices, it is shopped so much that most of their clothes are easily picked out in a crowd. The sprawling two-floor retail store accommodates selections for both men and women, including a comprehensive accessory collection, as well as a suit and tie section for the men. For those who can afford it, the upstairs showcases some of the newest in runway fashions.
| | |
| --- | --- |
| | If you want to fit right into Montreal's hippest, this place has everything your heart desires. You'll find the latest line of Diesel, Miss Sixty, Matt & Nat, Puma and more all at one convenient location. Once voted as having the most beautiful staff in Montreal, it's worth the browse for more than just the clothes. During sale season, people flock from all over the city just to get there hands on the cheapest deals on their favorite fashion accessories. |



4920 Sherbrooke W.




Indigo has taken North America by storm with its huge department-store sized bookstores. With everything you'll ever need to read under one roof, this new concept actually encourages customers to grab a book and hop into one of their huge padded chairs and flip through the pages. The top floor even has a coffee shop so you can sip on your favorite beverage while enjoying your literature.



Ste-Catherine W.




Zara's disregard for nationalistic tendencies has made it into one of the hottest trends in international fashion. Spread over Europe, Asia and North America, the Spanish clothes themselves reflect a homogenous jet-setter. The trendy minimalist setting makes it easy to find an outfit without being distracted. To boot, Montreal's Zara also has a Zara Kids. Just because they're young doesn't mean they can't have international flair!
| | |
| --- | --- |
| | After years of success in Europe, this exclusive line of make-up has crash landed into the corridors of Place Montreal Trust. With an impressive flair for every shade of the rainbow, as well as high-quality products, Inglot is already making waves among the toughest critics. Set in the very centre of the shopping area, there is no way you could miss their bright colors and shiny façade. |