Montreal Hotspots
Montreal's Finest
Cascade down Mountain Road
Offering dining, shopping, partying and entertainment for all
By : Lauren Chang MacLean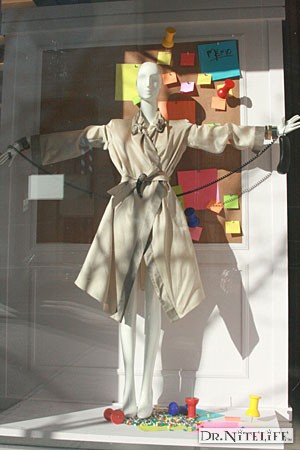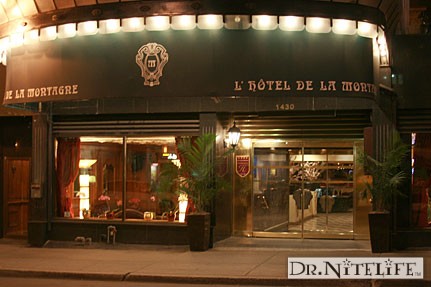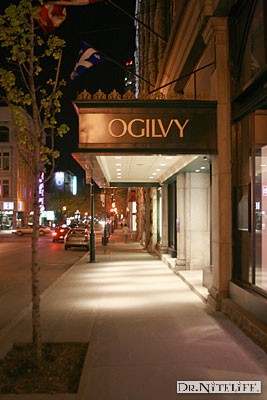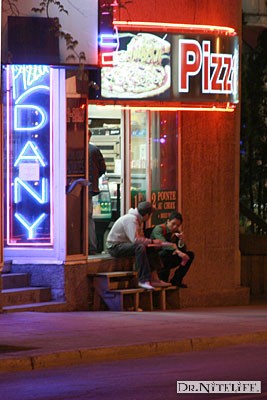 Rue de la Montagne, or Mountain Road, cascades down the southwest side of Mount Royal into the heart of downtown in a flurry of couture fashion, eclectic restaurants, and a diverse selection of nightspots. The mixture of entertainment available on this short stretch of road represents each of the unique flavours that comprise Montreal's unmistakable "joie de vivre".
Fine dining, high culture and some of the city's finest boutiques cozy up to the debauchery, indulgence, and uber-trendy scene of Montreal post-sunset.
The fun begins at the corner of Sherbrooke and increases exponentially as one travels southward. Holt Renfrew, the Canadian destination for every fashion maven, carries four levels of the latest in nighttime (or daytime) threads, and is also a great place to pick up impressive gifts. Check out the ultra-mod Café Holt's for a latte or light lunch.
For couture a little further off of the beaten track, rue de la Montagne is dotted with tiny one-of-a-kind boutiques including Marie-St-Pierre, Chacock, Les Nocs Couture and Specchio. Ogilvy's, essentially the Quebecois version of Holt's with a snobbish elegance that can only be pulled off en francais, is anchored at the corner of St-Catherine by the can't-be-missed Louis Vuitton boutique.
Between de Maisonneuve and St-Catherine you will find both the Hotel Vogue and Hotel de la Montagne, each with its own distinct style of piano-bar entertainment. Vogue boasts the elegant Italian restaurant, Cellini, where the attentive service, spotless white tablecloths and subtle romance perfectly complement the exclusive wine cellar and table d'hote.
The Hotel de la Montagne features an old-school piano lounge complete with golden statues, fountains and carved wood fixtures – a great place to grab a drink or light snack before a night out on the town. In the summer months be sure not to miss the rooftop terrace where crowds of beautiful people mingle poolside, with a pitcher of sangria until 3 am.
Below St. Catherine is where the most happening nightlife can be found. The one-of-a-kind Galerie Art et Vin, a chic commercial gallery and wine bar gives the after-work and pre-dinner crowd a chance to soak up the hottest new names on the art scene – vintage merlot in-hand.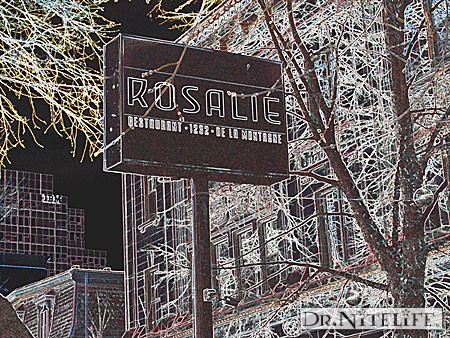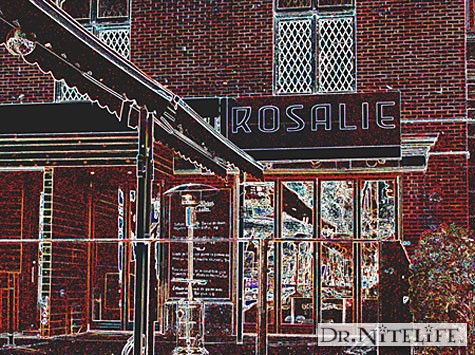 Across the street is one of Montreal's notorious supper clubs, Rosalie, a delectable French bistro-style restaurant by day (weeknights too) and hopping DJ-driven see-and-be-seen spot Thursday through Saturday. Here is where you go to disappear into a crowd of mini-skirts and open-collar shirts, to emerge with a martini in one hand and new arm candy on the other. Bonus: a huge front-of-house patio in the summertime, gorgeous wait staff and a private Mezz-level lounge available by request.
Just next door resides the sprawling Club 1234, a majestic temple of a dance club. 1234 is known for its packed dance floors, concert-sized stage and multiple levels of well-oiled and scantily clad club-goers.
Rest assured the street does offer a taste of the tantalizing nudie bars Montreal is famous for. Wanda's, a non-contact stripclub whose business has been booming since 1977, rightfully lays claim to the most gorgeous girls in the industry. On weekends there is a minimum of 75 girls milling around four floors of mirrors, couches, poles, stages, bars and dance floors. There is no cover charge, but don't forget to tip the doorman.
In Montreal, breakfast spots have a huge appeal for both tourists and locals alike, and rue de la Montagne offers two fantastic spots. Eggspectations, the Montreal institution famous for its lineups every Saturday and Sunday morning is well worth the wait. Try their innovative and unexpected egg-based dishes, and their fresh fruit juices. Tramezzini, a hidden gem of a café serves up delicious breakfast and lunch dishes – try the pancakes or the sandwiches made on bread for which the restaurant is named.
All in, rue de la Montagne has something to suit the taste of any visitor to the city – enjoy!