Montreal Hotspots
Montreal's Finest
By day or by night
They don't call it the Main for nothing
By : Lauren Chang MacLean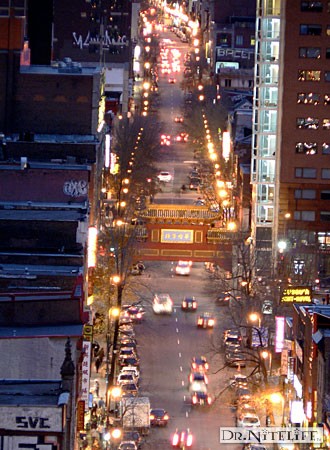 St-Laurent is a unique and diverse mélange of whatever is the newest, hottest trend of any given moment. With its skyrocketing commercial rents and bustling daytime and nighttime action, businesses either flourish or fail – fast – forcing St-Laurent establishments to adapt quickly to the whims of the minions of scenesters.
This translates into establishments that change their entire décor seasonally just to keep up – from the menus, wall-art and furniture, right down to the infamously stylish waitress outfits. Here, transformation and fast-paced action are the status quo and there is a niche market to suit the fancy of every kind of visitor.
The street's dense line-up of some of the best-known clubs, eateries, shopping and attractions has been appropriately compared to New York's SoHo district, and inappropriately with Toronto's Queen Street West. But like the city itself, this unique stretch (the hot streak between Sherbrooke and Pine Avenue in particular) shows a vibe unavailable in other North American cities, with its Euro-style and sophistication.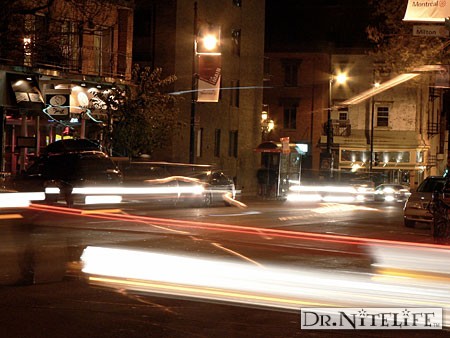 For a visitor to the city, a trip to The Main is essential for "experiencing" Montreal. A cosmopolitan blend of language, ethnicity and varying degrees of chic, St-Laurent does a bit of everything, and does it a little differently. The clubs are tiny by big-city standards with an intimate who's-who ambience and steady stream of big name DJs sometimes in the most unexpected of venues.
The restaurants are very well-stocked with model-esque wait-staff, funky fusion cuisine, while offering a wide selection of different kinds of eats. There are few pubs on St-Laurent, but instead a strong showing of hip dive bars spilling local and domestic pints for teeny-tiny prices, with free bowls of salty popcorn and/or platters of $2 tapas to seduce your thirst buds.
On St-Laurent you won't find a string of stores available in any North American mall – rest assured, The Gap, Le Chateau and Aldo are all on the nearby St-Catherine – but instead an eclectic selection of independent fashion boutiques with plenty of local representation.
Mordechai Richler gave an apt and colorful description of the street as he knew it growing up in the '40s and '50s, and while Montreal has seen a world of changes since, funnily enough much has stayed the same:
"Every night St. Lawrence Boulevard is lit up like a neon cake and used-up men stumble out of a hundred different flophouses to mix with rabbinical students and pimps and Trotskyites and pool room sharks."
Irrespective of time period or point of view, St. Laurent is an essential, vibrant and defining character of Montreal – a must-see, must-experience, must-have for every visitor to the city! +