PLEASE VISIT OUR NEW SITES

Montreal Hotspots
Montreal's Finest
Indulge In The Shopping Strip
Malls, boutiques, shops and brandnames...what more can you ask for?
By : Adair MacGregor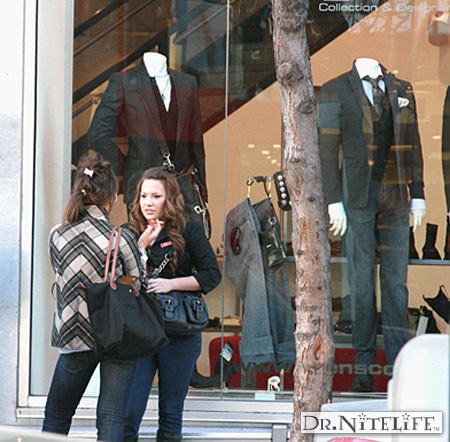 Most of the Ste-Catherine Street shopping malls have been regrouped in the
Underground city



486 Ste-Catherine W.




This immense underground store has everything an alternative geek could imagine—pipes, t-shirts, posters, comic books, skater paraphernalia, collectible toys, flags and clothing accessories. Don't be shy, the staff may look a little frightening, but they are the friendliest people on the planet if you have a question.



1240 Phillips Square




Situated on Ste-Catherine just outside the Bay and the McGill Metro, this high-end jewelry shop is a must-see. Established in 1879 in its original beautifully-upheld location, Birks is complete with jaw-dropping chandeliers, marble columns and stunning plaster moldings. Only more impressive is its collection of jewels whose shine barely dims its current home.



1021A Ste-Catherine W.




Off the Hook is Montreal's tribute to urban youth culture. While selling a bunch of street-wear including LRG, Zoo York and Triple Five Soul, Off the Hook doubles as a popular art gallery for local, national and international artists. Art shows often take place inside its walls, as well as advertisement for anything similar. Anyone who wants to see the word on the street has but to climb up its bass-bumpin' steps to stand above the sidewalk.



1035 Ste-Catherine W.




By maintaining huge ethical and quality standards over the past 33 years, this clothing company is now Canada's leading lifestyle brand, pumping out quality shoes, leather accessories and clothing to more than 125 locations across Canada. If you're the conservative woodsy type, you'll find more than you bargained for with fashionable hoodies and sandals that will last as long as you wear them.



1191 Ste-Catherine W.




Over 20 years of business has taught this persistent company a lot about selling shoes. With its long beginnings as a restrained black & brown men's shoe store, it has since transformed into a flashy and hip centre for Montreal shoe shoppers. Today's Brown's carries a variety of high-end shoes from Prada, Gucci and Chuck Taylor's by John Varvatos. To get away from the store's constant buzz, just take your goods to the upstairs fitting lounge for a calm and upscale environment.



1307 Ste-Catherine W.




Once one of the four major department stores on Ste-Catherine, this surviving Montreal institution is one of the most cherished and high-end clothing markets in the city. Still stuck with tradition, a bagpiper continues to strut around the store announcing the noon hour and special events. Ogilvy houses the likes of Boss, Louis Vuitton, and Burberry and other posh labels.
| | |
| --- | --- |
| | 1455 Peel |