It's always tough to know what's in store when you party in a new city, but we're willing to bring you into our den of partying and excitement ahead of time with a series of weekend highlights! Get lost in this highlights from real weekend events planned by Montreal Nitelife Tours!
 Highlight # 1
Hey everybody!
Hope you had a wicked weekend.
Montreal Nitelife Travel was kicking it all over Montreal for a BIG PARTY WEEKEND:
Montreal Nitelife VIP Agent #1:
"I had several groups in town, and we partied with them at several venues. For my Montreal Bachelor Party group "FEB20", our guests were staying at the Quality Hotel, had a large group dinner at Firegrill (with our VIP reservation & discount package).
The highlight of our night was the VIP treatment at Chez Parée and no lineup access at Jet, where we had bottle service setup and ready for us by the time we were escorted to our table area.
Clients were extremely happy. My other two groups were happy too. A flawless party weekend!"
Montreal Nitelife VIP Agent #2:
"My largest group of 12 (seven girls, five guys) took some serious planning. Two birthday celebrations for this Montreal Party Weekend group "FEB19/20", so we had two nights to make it rain. Friday night we went to Tonic Club Lounge, threw it down big time… Bottle service in the VIP booth and no lineup access for all 12 Montreal Nitelife partygoers.
On Saturday during the day, I had the guys bar-hopping on Crescent and Bishop Street to watch the Olympics while the girls went shopping with out Underground City discount cards.
They had dinner all together at Cibo & Vino on Saturday night with discount and reservations, and then I took them over to Ivy Nightclub on St-Laurent Boulevard where the remainder of the night is a blur! The tab would have been massive, but Montreal Nitelife hooked them up. Had they gone on their own, I doubt they would have had the same Montreal VIP treatment and service. Great group, lovely clients. Dinner at C&V was my highlight."
Montreal Nitelife VIP Agent #3 (Mr. Experienced):
Friday I setup some skiing and snowboarding at Mont-Saint Sauveur with lift tickets and discount Montreal/Saint-Sauveur transportation. I had everyone back at the Westin Hotel (group of 8 NYCers, mid 20s professionals) wayyyy before midnight, and then I took them to dinner on St-Laurent at Globe, where some stayed the entire night, others strolled on up to Rouge and Koi Lounge. We ended the night at A Gogo's Lounge. Perfect St-Laurent Blvd night.
Saturday night, my other group had dinner at BU wine bar, then hit up Macaroni Bar with bottle service and no lineup access. At 1:30 am, I swung by The W lounge to checkup on another group who were staying at the W hotel. Everything was perfect there, so I ended my night at Time Supperclub, where I partied with another Montreal Nightlife VIP Host and her group of nine girls from Toronto. They were money, so much fun."
And that's what a call A Perfect Montreal Nightlife Experience!
Highlight # 2
It looks like we're gonna keep the Montreal Nitelife Travel Weekend Highlights!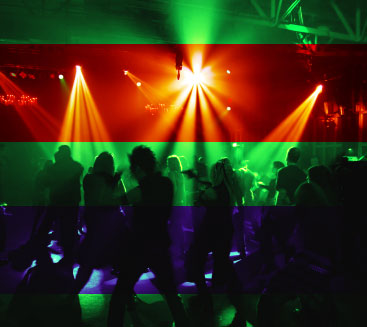 With the steady emergence of Montreal Nitelife Travel's Trip Builder, we are able to keep our Montreal Nitelife Travel guests super happy. Our Trip Builder allows partygoers to select all the options they want in their package when taking a trip to Montreal. At the same time, they can remove certain items in order to budget for everyone!
Montreal Nightlife VIP Agent #1:
"OK, I had three groups in town. Two were pretty much taken care as they had major Montreal daytime activities and had simple-planned evening including dinner at Montreal's supperclubs and bottle service after dinner.
Now my third group was a bunch of ALL-STARS. Met them at the lobby bar at The W Hotel. We did an INSTANT round of shots to help kick off the party weekend. They wanted the bar scene, so we headed over to Crescent Street and hit up Happy Hour at Newtownand Thursday's. The evening turned into clubbing time quickly and they walked over to Jet to finish off the nite with VIP entrance, guestlist and table reservation. Saturday they had dinner at Queue De Cheval, walked over to Wanda's and then hit up St-Laurent Blvd for some Montreal Nightlife action at Ivy Nightcluband Le Rouge Bar. Sunday, they wanted to see the Plateau so went for coffee at Café Olympico and stuck around til lunch at the one and only, Schwartz's Delicatassen. Awesome group."
Montreal Nightlife VIP Agent #2:
Hey Hey, so I had four groups to take care of. Two groups were booked on the couples' escape and only required my meet-n-greet on Friday evening. One couple was staying in Old Montreal at Hotel Place D'Armes, so most of their planned events/outings were in the Old Montreal area, including dinner at Gibby's steakhouse and then checked out the Highlights Festival at the Quays of the Old Port. The other couples' group (two couples) were staying at the Hilton Bonaventure, went for dinner at Milos on Friday, and I escorted them to La Croissanterie Figaro on Saturday Morning (I learned about this place through a cute girl I used to date and she worked there part time… I think every waitress ever hired has to be like movie-cute… because they all are). Saturday they checked out the Montreal Museum of Fine Arts.
My party groups hit up Milsa on Bishop, the bars below Ste-Catherine on Crescent such as Hurley's and Brutopia and then took a gorgeous SUV stretch limousine to the Casino of Montreal. I also had one bachelor party take over the VIP section of Club SuperSexewith more bottles and ladies than in the rest of the club!"
Montreal Nitelife VIP Agent #3 (Mr. Experienced):
"Have you ever been to the Scandinave Spa up at Mont Tremblant? How about trying to tie that into a Montreal Party Weekend package? Wow, I sure didn't think I could have them up there all of Saturday and back in downtown Montreal for the Olympic Gold Medal hockey game. Absolutely no problems whatsoever. Friday we went to dinner at Garde Manger and then had bottles at Santos Lounge. Saturday morning they somehow woke up on time and we brought them sandwiches from Olive & Gourmando. SUV rentals up to Mont Tremblant where they ski'd with afternoon passes and hit up the spa in the evening. Now that's what I call hitting up Montreal with class and style!
Highlight # 3

Here we go again!
Montreal Nightlife VIP Agent #1:
"It's always fun when you get a large Bachelor Party group flying in from Chicago. Two limousines picked up the 12 guys on Thursday afternoon. That night they wanted a little tour guide of Montreal's downtown, so I hopped in one limo with the Bachelor and the group organizer and showed them around Crescent, Ste-Catherine and Mount-Royal's lookout. Friday night, they had reservations at Med Bar + Grill for dinner. After dinner they took a limousine up St-Laurent to Solid Gold, and made it back for their bottle reservations (8 in total) at Med for 1 am!
Saturday they wanted to experience some Pubs during the later afternoon. I then met up with them for some entertainment back at the Bachelor Party Headquarters. Limousines picked us up, and brought us to Moomba Supperclub where dinner and 9 bottles of premium liquor were chilling on ice for my Chi-town guys."
Montreal Nightlife VIP Agent #2:
"I had 5 groups in town, three from Canada (TO, Ottawa & Winnipeg) and another two from North-East US. Friday night, I pretty much went all over downtown catching up with my guests. I hit up Jet for VIP guestlist, same at Seven Nightclub, Tonic Club Lounge  and then I checked the biggest group of 9 partygoers who were loving the dance-offs at La Boom!
Saturday, I had two groups come in for one night party weekends with hotel. I met up with the girls Bachelorette Party group at Hotel St-Paul, took them to Garde Manger for dinner and then lots of shooters at Santos Lounge. My other group was on St-Laurent Blvd, having dinner at Buona Notte and bouncing around at the bar/lounges on the Main, including Rouge and Gogo's. They really wanted to eat Montreal poutine at 3 am… so I brought them to La Banquise … heaven in a bowl!
Montreal Nightlife VIP Agent #3:
"Well, we had a group of hockey people in town for one of the scouts' Bachelor Party. Friday night, we took them to watch the Montreal Juniors take on the Rouyn-Noranda Huskies at the Verdun Auditorium. Beer was definitely flowing, and once the game ended, we first hit up Burgundy Lion for some single-malts and then over to Chez Parée. Saturday, they went go-karting in the middle-afternoon, set them up for an early dinner at M:BRGR and then to the Bell Centre where the Habs beat the Bruins 3-2 in front of a sellout crowd. After the game, we bar-hopped near the Bell-Centre at Ye Olde Orchard, Hurley's, Brutopia and just as I thought we were done for the night, we then went to Stogies for some cigars. Great group, great stories and great times at MNT.