One of the most popular go-to hotspots on The Main, Muzique is a fast-paced can't-be-missed club with great DJs, an upbeat atmosphere, and beautiful people (especially the women) as far as the eye can see. Opened in 2009 and packed to capacity ever since, a bevy of models, actors and young financiers flock to this sophisticated venue every weekend to experience the city's most extravagant and exclusive events. DJ Cava will perform at Muzique tomorrow with Paul Tirtirau, Goldenchild and Kidd. They also have a number of impressive in-house DJs spinning every Friday, Saturday and Sunday.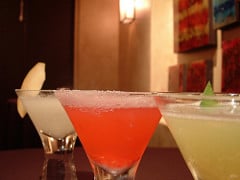 There are places that can host the occasional party and then there are places like Muzique, which were made for the party scene. Bachelor parties, bachelorette parties, student weekend getaways – any event that you can visualized a party for has a place at Muzique. Whether you're want to go just for the music or for the full experience of being a club VIP, Montreal Nitelife Tours has your back and can help you get the experience you want from this incredible club.
And we can't wait for summer to get here already – Muzique also has a fantastic rooftop terrace reserved for exclusive clients (like Montreal Nitelife Tours' guests – we've got you covered).
Photos courtesy of Muzique