You've traveled all this way to the French city of Montreal, so it makes sense that you'd seek out a restaurant that cooks up something you're completely familiar with, right? Maybe a nice, greasy cheeseburger or a slice of cheesy pizza. Let us tell you, if that's how you handle dining in a new, foreign city, then you're handling the whole "traveling out of the country" thing completely wrong!
You've come all this way, so why wouldn't you want to enjoy the local cuisine from chefs that were born to cook it? We're talking poutine they've prepared so many times, it's something they can whip up with their eyes closed. Steak frites that will have you forgetting all about those unseasoned potato wedges you're used to. A meal so perfectly French you'll feel like you took your weekend getaway from studies across the Atlantic.
French cuisine isn't just something to fulfill your body's need for food – it's an experience, and at any of these six local restaurant, your average lunch can become a high point of your time in Montreal.
L'Express

L'Express is a gem of a restaurant in the Latin quarter of Montreal. With its warm décor and cool crowds, L'Express offers French bistro cuisine as it's best.
Many industry people claim that L'Express is the best restaurant in the city post 11 pm.
Well, even before 11 pm this St-Denis restaurant is delicious! Favorites include the the beet salad with apples and celery while the octopus with lentils is out of this world.
Staple dish includes the bone marrow while the wine list is simply stupendous. Located at 3927 Saint-Denis in between Roy and Duluth.
La Banquise
Many will take the claim of having the best poutine in Montreal. For those that don't know, poutine is French fries toppled with cheese and gravy. It's delicious.
At La Banquise, poutine is taken to the next level, as you can so many different ingredients.
A great place to have a bite post the club/bar scene. Nothing fancy at all, a true "Plateau" grub spot well worth the lineup on a busy night, which is nearly every night.
Right beside the Lafontaine Park at 994 Rachel East.
Barroco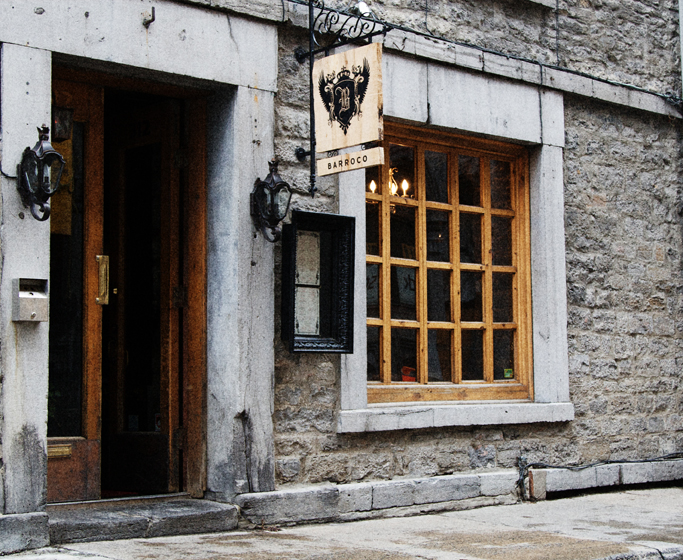 A new restaurant in Old Montreal West, Barroco is a hip restaurant offering French cuisine to the business and fashionable crowds of Montreal.
The same way the appetizers give a burst of flavor upon first taste, the moment you walk in you'll be visually taken by a colorful and seductively lit dining room with many attributes to its snazzy décor.
And yes, you will notice the sound system.
For mains, we had the chimichurri 18 oz. rib steak and the tasty tagliatelle vesuvio, and both were very tasty.
Located at 312 Saint-Paul West in Old Montreal West. Reservations recommended.
Steak Frites St-Paul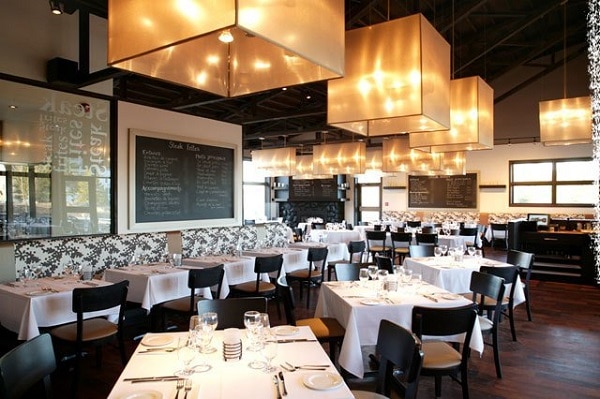 In Montreal, "bring your own wine" is quite popular. is definitely one of the top dogs of the category.
Offering a great steak with all you can eat fries done right, "Steak Frites" has multiple locations in and around downtown Montreal.
The menu is affordable and quite tasty with the classic steak frites, filet mignon, tasty duck confit, or the surf and turf.
Located at 12 St-Paul West, 405 St-Antoine West, 1014 Laurier O and in Laval, St-Bruno and Nuns Island as well.
Photographed is the original at their St-Paul location in Old Montreal.
La Grange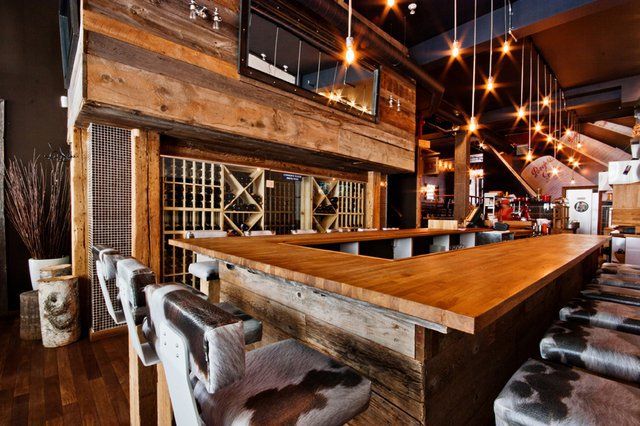 Montreal restaurant La Grange plays on the western and puts it in style.
This is Montreal, and in a hip neighborhood such as Old Montreal West, setting up a barn looking restaurant works when done with cool design and great lighting.
Menu is varied and very tasty and don't worry about the wine at this cool wine bar, you'll be in fine company! Found at 120 McGill.
Resto L'Appartment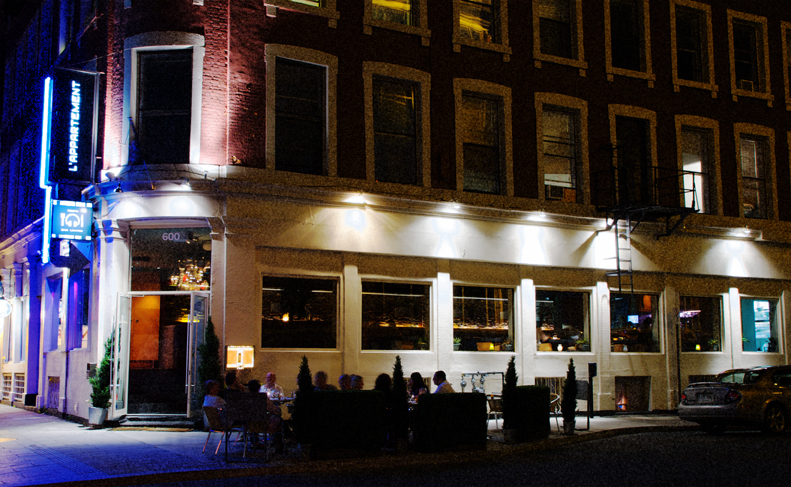 Nestled on the corner of McGill and William Street, Montreal's restaurant L'Appartement opened up in '06 and is busy every night due to its key location and varied menu. Great spot to have dinner and extend the night for some drinks prior to hitting up the evergrowing Montreal Nightlife scene in Old Montreal West.
L'Appartement plays on the décor of an apartment (!) and is just a few steps away from major tourist attractions and hotels.
Trendy to say the least, the menu features delicious tar tars on the appetizer list and pleasure food for the mains. I liked the red tuna steak in a panko crust with avocado and honey sauce.
After taking over the building, Peter Morenztos has brought Paris to Montreal with Le Pois Penché.
The address is 660 William Street and be sure to call for reservations.
Le Pois Penche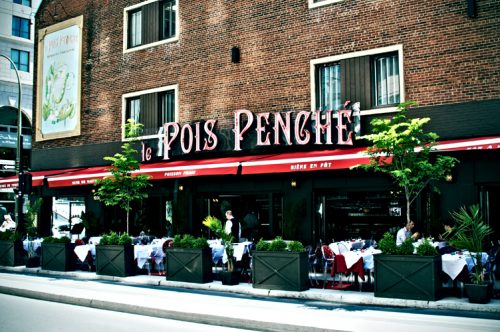 This two-floor Parisian style brasserie time warps you back to Paris circa 1940. You'll find art on every wall, a gorgeous raw bar, a marble bar area with beautiful red chairs.
The crowd will be ultra-important Montrealers and the young professionals later on.
A wine-list to die for and a menu that changes with each meal of the day, Le Pois Penché is definitely a unique dining experience.
1230 De Maisonneuve, on the corner of Drummond St.
L'Atelier d'Argentine Downtown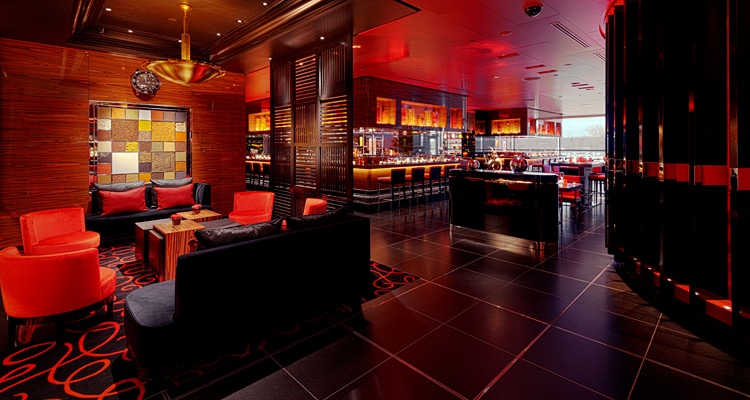 As the owners of two well-known French restaurants in Montreal (Les Infidèles and À L'Os) decide to open up another restaurant, they had all the right ingredients.
A simple yet cool décor, great staff and a menu featuring tasty marinades and creative sauce combos make L'Atelier a major player on Saint Laurent boulevard in the Mile End neighborhood of Montreal.
L'Atelier is known to have smaller dishes moderately priced meant for sharing with an effortless transition of appetizers to mains.
It's also a "bring your own wine" restaurant… just making sure everyone has a splendid time.
Recommended. Located at 1458 Crescent St.