PLEASE VISIT OUR NEW SITES

New Years Eve Packages

With its world-renown vibe and atmosphere, Montreal is the ideal city to ring in the New Year. NYE in Canada's "Sin City" is unique with its diverse entertainment.. Book a travel package with Montreal Nitelife and enjoy a midnight countdown you will never forget! Packages can include hotel reservations, bus tickets, and NYE tickets or a melange of service based on your preferences. Call our Toll Free for more information at 1 (866) 221-5885 or feel free to configure your package using our "Trip Builder" application by clicking on the green "Quote" button below. No commitment required!



Montreal New Years Eve Packages

Essentials

Starting from (with hotel)
$199/person
Downtown Party Hotel

Downtown Party Hotel

Montreal's BEST party hotels at the best prices, all DOWNTOWN!

- All Taxes Included
- All Security Fees
- Express Check-in

New Years Eve Party Tickets

New Years Eve Party Tickets

Choose from any party in the city, and have your tickets waiting for you at your hotel!

- You are able to change parties at any time until December 19th.


optional
Bus Round Trip - Luxury Motor Coaches

Bus Round Trip - Luxury Motor Coaches

- All tickets are Round Trip
- 2 night/ 3 day trips leave Dec 30th or 31st, depending on your trip dates @ 8am
- 3 night/ 4 day trips leave Dec 29th, 30th or 31st, depending on your trip dates @ 8am
- All buses leave Montreal on January 1st or 2nd, depending on your trip dates @ 1pm
- We reserve the right to cancel or change your bus add-on due to lack of travelers on that bus
- Buses will drop you off in Montreal's downtown center.
- Don't see your city available? Contact us; we can set it up for you!
- Book Early! Seating for the buses is limited and fill-up very fast.


optional
Personalized NYE Travel Planning

Personalized NYE Travel Planning

All travel logistics (Hotel and Transportation) by Certified and Licensed Professionals

Customized Itinerary

Customized Itinerary

- New Years Eve Party tickets, with delivery

- Truthful, unbiased information as to where to go :

December 30th Bar Hop :

The largest bar hops in the world, featuring 30 clubs, 20 000 people, and transportation from club to club.

December 31st New Year's Eve Parties :

We work with every major promoter and nightclub in the city to offer you the most complete selection of New Year's Eve parties. The expected prices for tickets range from $20 to 90$ per person, but book with us and

choose from every party in the city!

Parties can range from pay bars to open bars and from lounges with 200 people to clubs with 3000 people.

Check out

www.montrealnewyearseve.com

for all our parties!

January 1st - Party with Style:

No cover charges, No line Ups, and access to VIP rooms at any club in the city!

Shuttle service included

to the nightlife district on Dec 30, Dec 31, and Jan 1st, for clients with bus transportation add on

NYE VIP Host

NYE VIP Host

You will have access to assigned NYE VIP Hosts at all times throughout your stay.



NO HIDDEN FEES

NO HIDDEN FEES


- All of our package prices include ALL taxes and gratuities.
- Other companies will charge you an extra $50 for "Security fees" PLUS $20 in "driver tips", after you book... don't say we didn't warn you!
Montreal NYE Bus Trips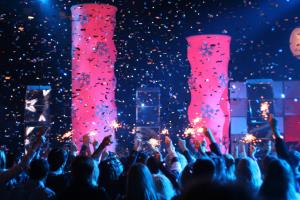 We have organized and continue to offer bus trips leaving from Toronto, Kingston, Waterloo, Windsor, Ottawa, Boston and New York. Please note we are not limited to these cities, if you have a group of 40+ people we can setup just the bus trip or an entire New Years Eve package.
Click here for more information on our bus trips
Montreal NYE Hotels
Based in Montreal, Quebec and a licenced TICO & OPC travel agency Montreal Nitelife can provide you with the best advice and prices for the right Hotel in the downtown core of Montreal for your New Years Eve party in Montreal.
Click here for more information on Montreal Hotels
Montreal NYE Tickets
Special Events, open bar, bar hops, clubs crawls, supper clubs dinner and dance, nightclubs, as well as December 30th parties...we tickets for it all.
Visit our Tickets page for more information.