PLEASE VISIT OUR NEW SITES

Montreal Bachelorette Packages
Over the past 13 years Montreal Nitelife has seen a steady increase in the amount of Stagettes being thrown in downtown Montreal. As empowered ladies begin to take the city by storm, MNT has adjusted its service offerings to this growing niche. As gender equality and pay equality have brought more of a parity we have found that women's needs for awesome "Parties" can rival and even surpass some of the wildest bachelor parties we have ever thrown for our male clients. Montreal is a logical choice being a European portal with beautiful people, high fashion, amazing shopping, and billions of activities.
Montreal Bachelorette Party Packages
When you call, our VIP party planner will help you coordinate your trip with any Montreal-based events and activities as well as find your group the appropriate hotel or hotel suite located in the downtown core of Montreal. Think you can get a cheaper place for a hotel elsewhere? Not going to happen, our connections with the hotels guarantees you always get the best price, if you can find a better place elsewhere just call your VIP planner and they will match the price right away.
(Click here to see our lowest price guarantee)
Stagette Party Package Advantages
Montreal Nitelife can bundle everything into your package. From striptease lessons to a spa day for the girls the limit is only your imagination and your budget! Our stagette packages also offer VIP access to Montreal's most exclusive nightclubs, supper clubs, restaurants, spas, and strip clubs, exclusively for Montreal Nitelifes' bachelorette parties and setup to make you smile!
Bachelorette Party Packages

Essentials

All-inclusive

Starting from (without hotel)
$42/person
$269/person
Starting from (with hotel)
$84/person
$311/person
Accommodations

Accommodations

In the heart of all the action, downtown Montreal, choose from a variety of Boutique, 5, 4, and 3 star hotels. Experience premier service and the best rooms.

Nightlife VIP Host

Nightlife VIP Host

Assigned Nightlife VIP hosts will be available at all times throughout your stay. When you arrive at the best clubs in Montreal, you will also have VIP hosts greet you, usher you in and show you to your reserved tables (if applicable) in the VIP areas.

Customized Itinerary

Customized Itinerary

We organize, plan and reserve it all. Anything you need here in the city, we will take care of for you. Either you tell us where you want to go, or we can advise you based on your client profile (age, atmosphere/ music preferences, budget, etc).

Nightclubs, supper clubs, restaurants, strip clubs
Daytime and night time activities
Unlimited VIP arrangements and reservations

Personalized Travel Planning

Personalized Travel Planning

All travel logistics (Hotel/Flights) by Certified and Licensed Professionals
Specializing in group travel, we can take of all the travel arrangements for you

Nightclubs VIP (line bypass & no cover)

Nightclubs VIP (line bypass & no cover)

We work with the BEST major nightclubs in Montreal. Don't waste your time waiting with the others outside, we will get you in the most exclusive clubs in Montreal, hassle free!

No cover charges
No line ups
Table reservations in VIP areas, if applicable

Applies to all your reservations

Restaurant Reservations

Restaurant Reservations

"The best tables, the best waitresses, at Montreal's best restaurants, all tailored to your budgets, food and atmosphere preferences. "

Strip Clubs VIP

Strip Clubs VIP

Feast your eyes on this: No line ups No cover charges At Montreal's best strip clubs

add-on
Pubs and Bars

Pubs and Bars

Montreal has a very exciting happy hour (locally referred to as 5 a 7), and we can recommend the hottest pubs, bars and micro-breweries the city has to offer.

Nightclub Tips

Nightclub Tips

You won't have to worry about reaching into your pockets every time you go some place new, all tips for bouncers and VIP hosts will have already been taken care of!

Male Dancer

Male Dancer

They come ready for work in the uniform of your choice. These guys are bigger than what you might be used to! (they work out... big biceps... that's all we meant.)

add-on
Nightclub Bottle Service

Nightclub Bottle Service

Enjoy bottles at your VIP table or booth instead of waiting for single drinks at the bar. Inexpensive, hassle-free and a flawless way to party. Bottles in Montreal are much less expensive than anywhere in North America, so take advantage!

Avg bottle prices listed. Bottle menus available.

Taxes (15%) and Tips (18%) are INCLUDED.

add-on
Champagne at the Strip Clubs

Champagne at the Strip Clubs

Have the bottles waiting for you at your table when you arrive at the club.

Avg bottle prices listed. Bottle menus available.

Taxes (15%) and Tips (15%) are INCLUDED

All-Inclusive assumes 1 bottle per 4 people.

add-on
NO HIDDEN FEES

NO HIDDEN FEES

ALL taxes and tips to your VIP host are included in our packages . Other companies will expect an extra 15% on your total package price as their tip. We don't. It's all included.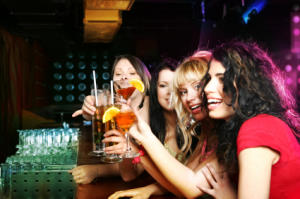 We specialize in the planning of Montreal bachelorette parties and all the Montreal-based events and activities associated with the Montreal bachelorette party.
We offer unparalleled VIP access to Montreal's best and most exclusive nightclubs, restaurants, strip clubs, Montreal shopping, spas, and extra options exclusively for bachelorette parties.
We ensure everyone has an exceptionally good time. Don't limit the potential of a Montreal bachelorette party; let Montreal Nightlife create an event to be remembered for years to come!
You are probably the maid of honor, best friend, or someone close enough to the bride-to-be to have been delegated the task of organizing the bachelorette party. As the organizer, a lot of pressure has been put on your shoulders. You must satisfy a big group, and that is never easy to do. Put that pressure on us, as we have the experience to know what different types of groups expect, and we will help you save time and put less effort into organizing the weekend.
Coordinating an event in a foreign city is never easy. Not knowing where certain venues are, not knowing the quality of those venues, and not knowing whether you are paying a fair price, or not being able to get discounts for your group can really be discouraging.
Whether looking for the most popular Montreal strip clubs, Montreal night and dance clubs, Montreal restaurants, or trendiest boutiques and spas, Montreal Nightlife's staff endlessly scouts the city for the newest, most popular venues, and negotiates deals exclusive only to our clients. These exclusive deals include, but are not limited to, no line-ups, no cover charges and discounts on drinks, services and activities.
Montreal Nightlife gives you ideas and sheds light on venues and activities most visitors don't know of, especially if you are to organize the Montreal bachelorette party weekend alone. Our bachelorette parties are guaranteed to leave you smiling. Allowing us to organize your Montreal bachelorette party ensures you service second to none. We work with the finest establishments and inspired them to create services geared strictly to our Montreal bachelorette parties.
Each group's needs and expectations are different. Montreal Nightlife tailors each Montreal bachelorette party itinerary and incorporates as many requests as possible. Your group will also have access to personal VIP hosts, which ensure your weekend goes smoothly.
We book your group in the hotel quality of your choice. All hotels we work with are situated in downtown Montreal, just minutes from everything you want. Due to the thousands of visitors we bring to Montreal each year, our volume-discounted rates are outstanding. You will be astonished with our incredibly low package costs.