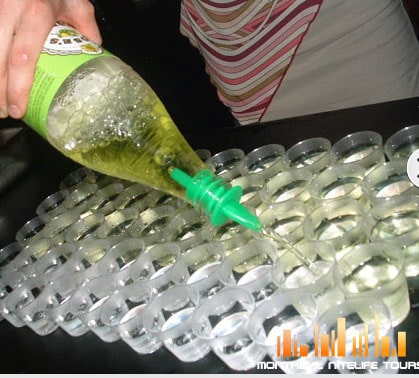 So you had an amazing bachelor party, one-of-a-kind, unforgettable… and now you can't shake your beast of a hangover. Been there, done that!
There are a lot of myths and old wives' tales about the best ways to kick a post-bachelor party hangover but many of them don't work. Always looking out for our clients (and readers), we compiled the top 5 hangover cures to get you feeling back to normal in no time.
- WATER!! After a night of heavy drinking your body is severely dehydrated (hence that awful pasty feeling in your mouth), so replenish fluids by drinking lots of water. Forget sports drinks like Gatorade – while made with electrolytes, which help to aid in dehydration, they're also packed with sugar, which won't be of any help the morning-after.
If you really want to speed up the healing process, find some PediaSure – yep, it's that drink you give babies when they're sick and need to get hydrated quickly. It's got the electrolytes you need without the added sweeteners… just make sure your mates don't catch you drinking from the plastic bottle with the teddy bear on it.
- Fruit. Eat an apple or a banana and curb the queasiness. Your empty stomach should feel better with solid foods in it, and the vitamins from the fruit will help with curing that hangover. And potassium-rich foods like bananas will also help speed up the process.
- Toast or bread. Don't load it up with butter and preserves – have a piece or two of dry toast to help soak up all that alcohol from the night before. Again, your stomach will stop churning so much once you put something other than vodka in it.
- Eggs. Discovery Health recommends eating eggs. Eating eggs the morning after will give you energy but they also contain substantial amounts of cysteine, the substance that breaks down the hangover-causing toxin acetaldehyde in the liver's easily depleted glutathione. Therefore, eggs can potentially help mop up the left-over toxins.
- Sleep. If you've been up all night you'll never give your body time to rest after trying to process all that booze. You need a long nap. Put head to pillow and let your body do what it's gotta do to get you over the binge drinking.
Similar Articles:
Best Hangover Cures for New Years Eve
So you had your fun (and a lot of it) and now you're paying the consequences? We've all been there – and we all have our own tried-and-true …

Worst Hangover Cures for New Years Eve
So another New Year's Eve is behind you, and all you have to show for it is a stamp on your hand, a kiss mark on your cheek, and a wicked ha …

Top 5 Montreal Brunch Locales
It was a great evening of partying, drinking and soaking in every ounce of goodness that Montreal has to offer – and now you're starving. We …
April 21st, 2011