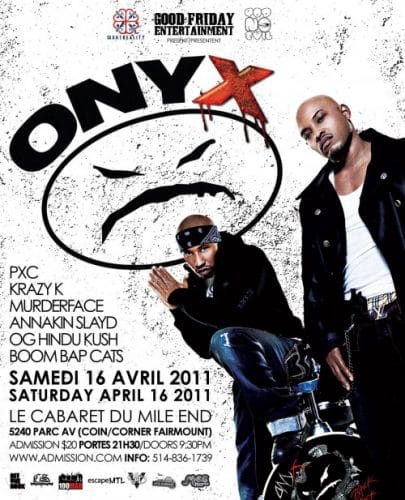 Clear your schedule from Thursday till Sunday – we have your agenda already planned for you.
On Thursday, Pure Nightclub is holding a Circus Freak theme night, complete with DJ King Louis, DJ Spin, and more, along with a freak show and various other live performances. Then on Friday night at this pumping venue, check out STEAMRADIO and DJ Miss Shelton.
Saturday Tonic Club Lounge is hosting an evening that's sure to be a great one with Tracy Nova. And, in a highly-anticipated event, ONYX will be playing at Cabaret du Mile End with PXC, Krazy K, Murderface, and a number of other talented rap and hip-hop artists – the show starts at 9:30pm.
Photo courtesy of escapemtl.ca