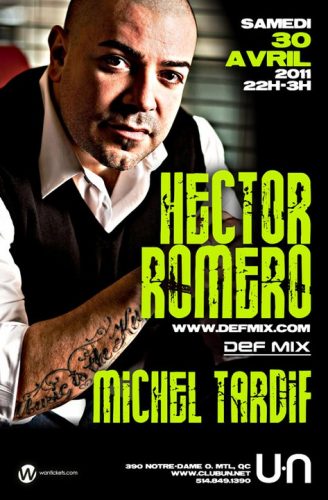 Outdoor patios are finally starting to sprout up with the arrival of spring (kinda), which means Montreal nightlife is going up a notch with DJs flocking to some of the city's trendiest haunts. On Friday, April 29th DJ Miss Shelton is celebrating with a birthday bash at Golden Nightclub (in Blainville). Their terrace is open with full bar service. That same night at Salon Officiel West Coast legend DJ Czech returns for a performance with special guest DJ Kephroc. And finally, Pure Nightclub is hosting a "Full House Friday" with DJ Shadeye and DJ Amiral – women drink free till midnight and the best house and top 40 music will be pumping till doors close at 3am, or check out Macaroni Bar's Hedkandi Friday with Sarah Louise.
On Saturday night there's only one place to be – at Club UN with Hector Romero.
If you'll be in town this weekend and would like reservations, VIP seating or special pricing only we can get, contact us and we'll make all of the arrangements.
Photo courtesy of Club UN
Similar Articles:
DJs Galore In Montreal This Weekend!
Montreal is jam-packed every weekend now that spring is in full swing and there's never a shortage of fantastic parties to check out in and …

ONYX, Freaks & More This Weekend!
Clear your schedule from Thursday till Sunday – we have your agenda already planned for you. On Thursday, Pure Nightclub is holding a Circu …

New Years Eve at Club Entourage
Hitting Crescent Street for New Years Eve 2011? Then make sure to check out the NYE party at Club Entourage. Always on the up-and-up, this …
April 27th, 2011